Wacoal x Mc Jeans creates a brave new world of bras with the concept of "Jean Bras perfectly charming both at work and leisure!"
08 April 2021
The 2 big brands of fashion products have come up with their ideal combination which creates the limited edition of their innovation named Wacoal x Mc Jeans. The collaboration by Wacoal and Mc Jeans leads to the combination of "bra", an important item of women, with timeless jeans, the clothing that suits all dressing styles.
Thamarat Chokwatana, Director of Thai Wacoal Public Company Limited, said: "The young women who love fashion usually look for the new styles they like. However, clothes of any style need bras to guarantee confidence. Although bras may not be shown off like other kinds of clothing, they undeniably are important items of all women of all ages and must be meticulously bought and chosen for use. Also, they are necessary to maintain the beauty of breasts and support them. Today Thai Wacoal Public Company Limited makes bras unconventional. Together with MC Group Public Company Limited, it introduces the latest collection of Wacoal x Mc Jeans – the Jean Bras that are perfectly charming both at work and leisure! Bras of the collection were made from jean fabric and include padding to add volume. They have appropriate exposure and ensure full confidence. The chic bras are perfectly charming and will unveil the unique characteristics of fashionistas like you. "Jean Bras" – the item of year 2021 by Wacoal x Mc Jeans will make young women enjoy dressing. Suiting all looks, the new products confirm that wearers will never be out of fashion. There are as many as 4 styles of Jean Bras – 1) sexy and confident crop tops with plunging necklines, 2) adjustable drawstring front crop tops, 3) square neckline crop tops featuring a beautiful, smart and unique style with cute back bow ties and elastic waists for firmness, and 4) wireless and hookless lace crop tops with pushups. The Mix&Match between Jean Bras and the McME Save My Ass edition of Mc Jeans which is outstanding for its designs and perfect functions for women of all builds will create flawless beauty and every place will be a runway," Mr. Thamarat said.
Chananyarak Phetcharat, Chief Executive Officer of MC Group Public Company Limited (MC) – a leading retail organization of fashion and lifestyle products, said the collaboration with Wacoal to launch the "Wacoal x Mc Jeans" confirmed the strategy for online and offline growth of the company that was based on partnership. It also presents new choices of clothing to the young women who are a key target group of customers for business growth and now they can enjoy the Mix&Match. "Jean Bras of this collection were created to ensure beauty on all occasions for the young women who are fashionistas. The crop tops of the 4 designs can match various styles of clothing, especially chic jeans of the McME Save My Ass edition, and wearers will always be charming from head to toe," Mrs. Chananyarak said.
Wacoal x Mc Jeans products are now available at Wacoal Shops at Megabangna, Fashion Island, Future Park Rangsit, Market Village Suvarnabhumi, Seacon Bangkae, Big C Bangplee, Seacon Square, CentralPlaza Rattanathibet and Siam Square One as well as via online channels namely https://shopfb.wacoal.co.th, Shopee, Lazada, JD central and Central online in addition to Mc Jeans shops at Megabangna, Fashion Island, Future Park Rangsit and Seacon Bangkae and www.mcshop.com.
Wacoal x Mc Jeans 4 รูปแบบ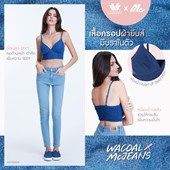 1. ดีไซน์สุด Sexy คอด้านหน้าเว้าลึกเพิ่มความ Sexyมั่นใจ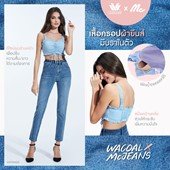 2. ดีไซน์รูดด้านหน้า เพื่อปรับความสั้น-ยาว ได้ตามต้องการ
3. ดีไซน์คอเหลี่ยม สวย เท่ ไม่ซ้ำใคร ผูกโบว์ด้านหลังเพิ่มความน่ารัก กระชับบราด้วยยางใต้อก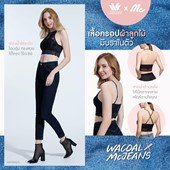 4. ดีไซน์ผ้าลูกไม้ ฟองน้ำไล่ระดับ โอบอุ้มทรงสวย ไร้โครง ไร้ตะขอ